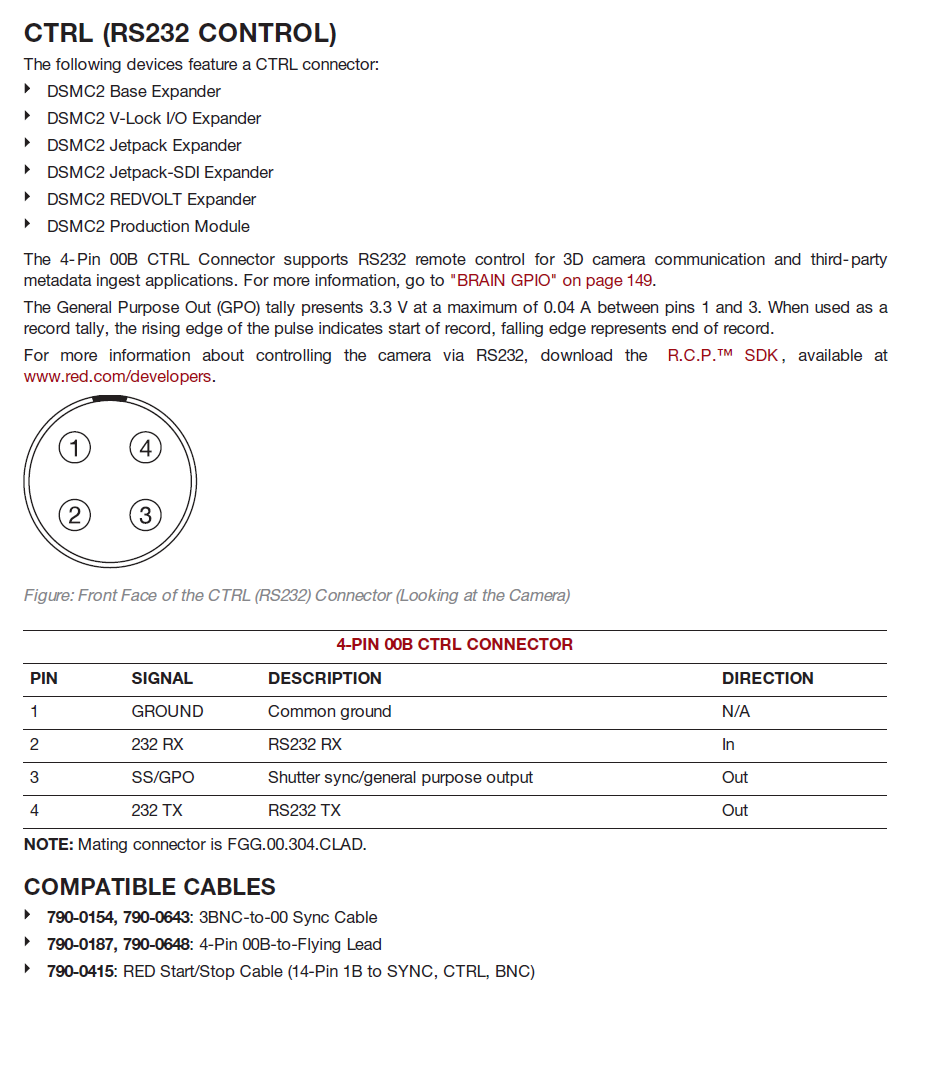 ---
CTRL (RS232 CONTROL) The following devices feature a CTRL connector: ► DSMC2 Base Expander
DSMC2 V-Lock 10 Expander ► DSMC2 Jetpack Expander ► DSMC2 Jetpack-SDI Expander
DSMC2 REDVOLT Expander ► DSMC2 Production Module The 4-Pin OOB CTRL Connector supports RS232 remote control for 3D camera communication and third-party metadata ingest applications. For more information, go to "BRAIN GPIO" on page 149. The General Purpose Out (GPO) tally presents 3.3 V at a maximum of 0.04 A between pins 1 and 3. When used as a record tally, the rising edge of the pulse indicates start of record, falling edge represents end of record. For more information about controlling the camera via RS232, download the R.C.P." SDK, available at www.red.com/developers.
Figure: Front Face of the CTRL (RS232) Connector (Looking at the Camera)
4-PIN OOB CTRL CONNECTOR
PIN
DESCRIPTION
DIRECTION
SIGNAL GROUND
N/A
232 RX
Common ground RS232 RX Shutter sync/general purpose output
In
SS/GPO
Out
3 4
232 TX
RS232 TX
Out
NOTE: Mating connector is FGG.00.304.CLAD.
COMPATIBLE CABLES
790-0154, 790-0643: 3BNC-to-00 Sync Cable 790-0187, 790-0648: 4-Pin OOB-to-Flying Lead 790-0415: RED Start/Stop Cable (14-Pin 1B to SYNC, CTRL, BNC)