Focus – SmallHD – Technical – Tilt arm screw falls off, drops monitor.
PROBLEM
However, the cold shoe mounted Tilt Arm on both monitors have given me a ton of problems. No matter how tight I screw the mounts on, the tilt arms repeatedly loosen and have even caused one of the monitors to fall during a wedding I was filming. There have been several instances where the monitor falls and the only thing that saves it are the attached mic and HDMI cables. Is there something I'm doing wrong? Or can you recommend a solution for this issue? Thanks! The monitor wont stay tight. Its horizon has issues, it falls off all the time.
At least every other day the monitor would slide off the hot shoe, seemingly impossible to tighten onto my a7sii. The store where I bought it in Thailand says he tells people to get another arm so obviously their is an issue worth your tilt arm that's included. Today my monitor slipped off and it hit the floor, breaking the screen. A tightened accessories shouldn't continually loosen itself like this so I think its very unfair the warranty wont cover it when its the poorly made accessory that came off and caused the damage.
SOLUTION
There are a few things we can recommend to help keep the monitor secure while shooting.
First, there are 2 screws for controlling the tilt feature. The T-screw (with the black handle) should be tightened as tight as you feel comfortable while the Silver tension screw is loose. You can remove the rubber washer is you want a more snug fit. The tension to adjust tilt should only be done with the Silver Screw, not he T-screw.
Second, if you are worried about the lower hot shoe mount, you can apply a single drop of lock-tight (superglue) to the threads before tightening the hex key mounting screw, but be sure to tighten is quickly and as tight as possible. Allow it to set for a few hours before use. Do not apply any lock tight to any of the Black painted parts. Only on the Threads of the Hex Key Silver Screw before mounting the hot shoe mount to the arm.
Third- these are both 14/20 screws, so if you wanted to use a longer or different one, you could.
Fourth- The Tension ring for the hot shoe should be regularly checked during the shoot process as the metal heats and cools, on bottom of the mount and the camera, tension will vary.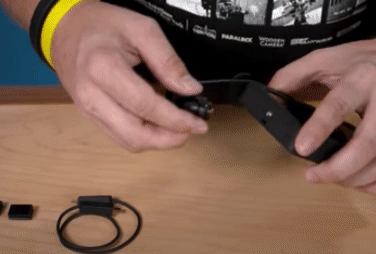 Keywords
Broken, falls, cracked screen,
CASE: SC178321 SC178337