SmallHD Support - 5D Mark IV – Canon – Troubleshooting – How to change camera settings
PROBLEM
I can see my camera's settings on the monitor but I can't see them on my camera or make any changes!
SOLUTION
Keep pressing the Info button on your camera to bring the camera's screen back up. Then you will be able to change the settings on the camera. You can also change a setting on your camera for a more permanent adjustment. In the Settings, under the Shooting menu (the camera icon) on page 5, go to HDMI Display. Choose the option that shows an icon of both the camera and a TV. In this mode the camera's screen will stay on and a clean feed of your movie will output over HDMI. You will not be able to see the camera's settings on your monitor. Depending on how you're working, this may or may not be advantageous. If you want to see those settings most of the time on your monitor, the Info button method is the better choice.
This setting is explained on page 387 of the Canon 5D Mark IV manual.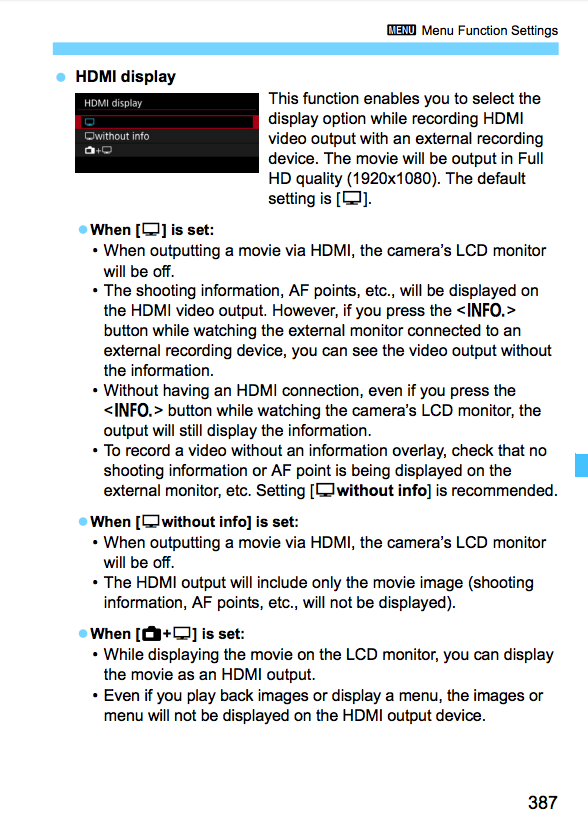 Keywords
Canon, 5D, 5D Mk IV, 5D Mark IV, 5D Mk 4, 5D Mark 4, Info button, live view
CASE: SC182731